Open in new window to print
Category: Cocktails
Spirit: Bourbon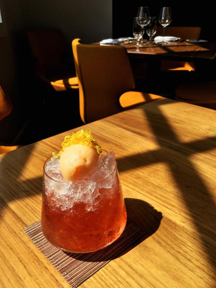 Title: Frozen Boulevardier 
Ingredients
3/4 oz. Aperol Aperitivo Liquor
3/4 oz. Carpano Antica Formula Sweet Vermouth
3/4 oz. Bulleit Bourbon
1 Quenelle Tangerine Sorbet
Zest of Lemon
Hand-Crushed Ice
 
Directions
1. Crush ice in a Lewis bag, pour into a rocks glass.

2. In a mixing glass, combine Aperol, Carpano Antica and bourbon.

3. Add fresh ice. Stir for 30-45 seconds, strain over crushed ice.

4. Garnish with a scoop of tangerine sorbet and Lemon.
Recipe provided by GM/Beverage Director John Jansma  Restaurant Serenade in Chatham, NJ.