West Virginia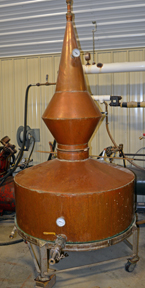 Producing distilled spirits in West Virginia has a long history. Settlers from England, Ireland, Scotland and Wales brought stills and the knowledge to craft spirits with local grains. Whiskey became popular amongst the culture. Farmers that had an abundance of corn could turn one and a half bushels of corn into a gallon of whiskey. The gallon of whiskey was more valuable than the corn. Whiskey was also used to barter.

Whiskey production continued in the state. In 1914 Prohibition became law and was enforced from 1920 - 1933. Making illegal moonshine increased during the beginning of the 20th century. As laws changed, by 1950 distilling spirits illegally was decreasing.
---
Visit these distilleries that advertise with Distilling - Wine Trail Traveler.