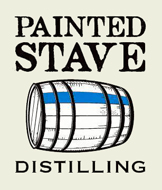 Painted Stave Distilling
Painted Stave Distilling
106 W. Commerce Street
Smyrna, Delaware 19977
GPS: N39º 17.979' W75º 36.499'
Phone: 302-653-6834
Wine Trail Traveler article

Tasting Room
Tasting Room Hours
Friday 4:00 pm to 9:00 pm
Saturday Noon to 6:00 pm
Sunday 1:00 pm to 5:00 pm
Tastings Notes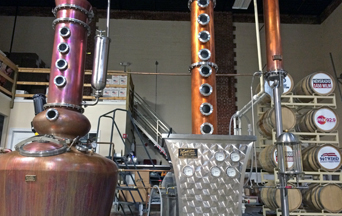 Tour Dates and Times
Friday at 5:00 pm, 6:00 pm and 7:00 pm
Saturday at 1:00 pm, 2:00 pm, 3:00 pm, 4:00 pm, and 5:00 pm
Sunday at 2:00 pm, 3:00 pm, and 4:00 pm
Tour Notes
Please arrive 15 minutes early for the tour.
Tours reservations are only required for groups of ten or more.
Tours are $10 and begin with a cocktail, then a 30+ minute guided tour of the production facility, and finish with a tasting of our spirits.
Complementary Tours for Designated Drivers and those under 21 years old.
Group Tours are welcome. We can also accommodate groups of 10 or more any day of the week by appointment, just send us an email.
Spirits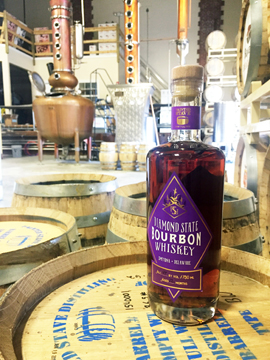 Mainstays
Diamond State Bourbon Whiskey
Diamond State Rye Whiskey
Silver Screen Vodka
Candy Manor Gin
Time Warp Espresso Vodka
Off the Hoof Scrapple Vodka
Avant-garde
SpRy
2014 Harvest Grappa
South River White
Bourbon Barreled Time Warp Espresso Vodka
Seasonals
Scarlett Cranberry Vodka (2015)