Open in new window to print
Category: Cocktails
Spirit: Vodka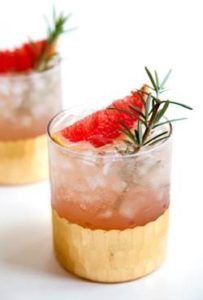 Title: Grapefruit Rosemary
Ingredients
1 oz vodka
0.5 oz elderflower liqueur
2 oz grapefruit juice
0.5 oz vanilla syrup
Sparkling Ice Essence of Water
Rosemary sprig, for garnish
Grapefruit slice, for garnish
Directions
1. Fill cocktail shaker with ice.
2. Combine vodka, elderflower liqueur, grapefruit juice, and vanilla syrup- shake until cold.
3. Strain into an ice filled glass and float with Unflavored Sparkling Ice.
4. Garnish with a rosemary sprig and grapefruit slice then serve.
Recipe and photo provided by Santa Margherita  and Sparkling Ice.