Open in new window to print
Category: Cocktails
Spirit: Vodka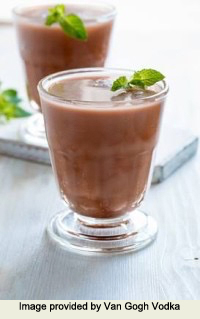 Title: Chocolate Almond Kiss
Ingredients
2 oz Van Gogh Dutch Chocolate Vodka
1 oz Hazelnut Liqueur
1/2 oz Dark Crème de Cacao
Splash of Cream
(sprig of mint to garnish)
Directions
1. Pour vodka, hazelnut liqueur and dark crème de cacao into a rocks glass filled with ice and stir.
2. Top with a splash of cream and garnish with a sprig of mint.

Hope you enjoy creating one of these cocktails for Valentine's Day.
Recipe provided by Van Gogh Vodka.