Open in new window to print
Category: Cocktails
Spirit: Tequila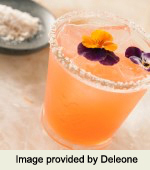 Title: Amante Picante Margarita
Ingredients
2 oz DeLeón Platinum Tequila
.75 oz agave
1 oz lime juice
Serrano pepper
Cilantro
Directions
1. Muddle two pieces of serrano pepper and clap 5 pieces of cilantro in a tin.
2. Rim a highball with Tajin/Ghost pepper salt, shake all ingredients together and strain into a the highball glass.
3. Garnish with a serrano pepper and sprig of cilantro.
Recipe provided by DELEÓN® Tequila. Crafted by Mixologist Juan Martinez.