Open in new window to print
Category: Sauce
Spirit: Moonshine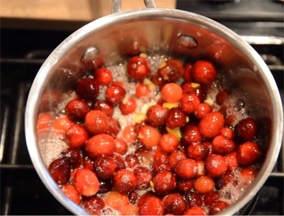 Title: Apple Cranberry Sauce
Ingredients
Zest of an orange
1 cup of Orange Juice
½  cup Appalachian Apple Pie Moonshine
1 bag of cranberries
½ cup of sugar
Pinch of salt

Directions
1. Heat in medium sauce pan, stir until sugar dissolves (2-3 min), stir in cranberries and bring to a boil.
2. Reduce heat and simmer until cranberries burst and sauce has thickened slightly (about 7 min.), sweeten with more sugar if desired. 
Recipe provided by Sugarlands Distilling Co in Gatlinburg, Tennessee.