The Distillery at Opolo Vineyards
by
Terry Sullivan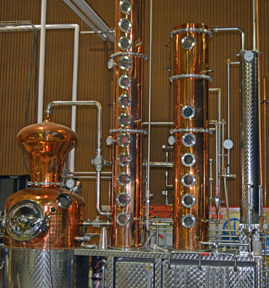 Summary: Make wine then distill it. Opolo Vineyards added another value added component to the vineyard and winery, a distillery. Wine enthusiasts can now taste wines as well as distilled products in a separate area at Opolo.
We have seen distilleries at wineries in New York and Colorado. Often times we visit distilleries that are separate businesses and not connected with a winery. Laws differ in every state as to whether a distillery at a winery is permitted. While on a tour at Opolo Vineyards in Paso Robles, we were led to the distilling area to see distiller Paul Quinn working on a cherry brandy.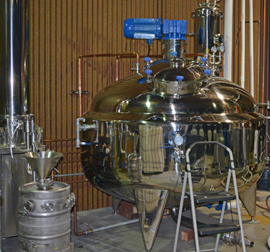 Gleaming stainless steel and copper shine in the subdued light of the distillery. Cherry wine was distilled in a stainless steel pot still. The cherries were sourced from the Traverse City region of Michigan; made into wine and then distilled. A continuous trickle of high alcohol colorless liquid flowed from the condenser. Distiller Paul Quinn took a sampling of the liquid and cut it with water. This cherry brandy had the aroma and very long aftertaste of cherries, reminiscent of a Montmorency cherry tree we used to have in our yard.
Another pot still made of both stainless steel and copper leads the vaporized alcohol to copper columns. There is a certain beauty to copper stills. It is a nice change from the stainless steel tanks and wood barrels associated with wineries. Distilleries have their own charm.
After our visit, in an online interview, we asked Paul about his distilling journey.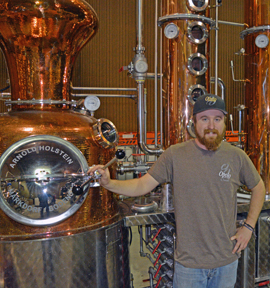 My distilling journey started out at a young age.  From winning my 4th grade county science fair for fermenting Welch's grape juice to my first experience with a still at age 13.  When Opolo decided they wanted to start creating spirits I jumped at the opportunity. Given my background in both viticulture and wine making it wasn't all too difficult to apply what I know about farming fruits to distilling quality brandies. I did however seek out professional training from master distiller Hubert Germain-Robin in which I completed his brandy distilling master class in 2014.  Since then we at Opolo have been getting our program off the ground and it is turning out to be a real hit with our fans.  I hope to continue distilling spirits for a long time.
Paul makes several distilled products including fruit brandies, aged brandies, brandy-based liquors and grappa. He is considering making whisky in the future.
We asked Paul what he wished he knew when he first started out distilling. He responded, "How much patience was required to make fine spirits." We also asked what advice he would give to people just starting out distilling? Paul wrote, "Do your homework.  Be safe.  Patience and resilience are the keys to success and you can never truly fail at something you are passionate about."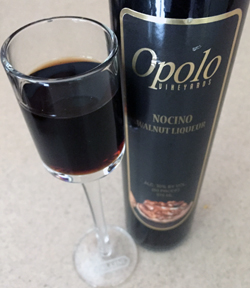 Nocino
Opolo Distillery makes nocino by first making a neutral spirits base from wine grapes. Then this base is infused with walnuts from the Opolo property. Before bottling, spices are added to the liqueur. The Nocino was a dark brown to black color with a light brown rim. The liquor had notes of licorice, nutmeg, cloves, cinnamon and walnuts. There is a slightly sweet taste accompanying this 60 proof (30% alcohol) liquor.
When visiting Opolo Vineyards, take time to sample some of the distilled spirits. They are a wonderful addition to the wine portfolio.
The Distillery at Opolo Vineyards
7110 Vineyard Drive
Paso Robles, California 93446
GPS: N35º 35.494' W120º 48.932'
Article written May 2016
---
Visit these distilleries that advertise with Distilling - Wine Trail Traveler.