Painted Stave Distilling
by
Terry Sullivan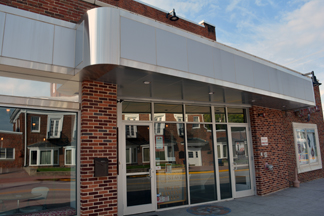 Summary: Visit and taste a portfolio of different spirits at a craft distillery in Smyrna. Parking is next to the distillery building. The distillery, tasting room and art gallery are housed in what use to be the Smyrna Theater. Relics of the former theater are still evident today at the distillery.
In the summer of 2011, a mutual friend brought Ron Gomes Jr. and Mike Rasmussen together to share their passions and dreams. Both Ron and Mike were working independently on plans to open a craft distillery in Delaware. It did not take long for the two to discover that they shared a passion for distilling and the dream of a Delaware craft distillery. What made their team stronger is that each was focused on a different aspect of the craft distillery business. Ron focused on the business side of the distillery while Mike focused on history and the production side of a distillery. Ideas were blended and the result was Painted Stave Distilling.
During the autumn of 2011 Ron and Mike founded Legacy Distilling; however, in 2013 the name was changed to Painted Stave. Painted Stave was one of the names considered for their business back in 2011. When it was brought to their attention that the name Legacy could be problematic, they chose Painted Stave Distilling for the name. Mike exclaimed that there is a historical reference to "painted stave" dating to the 1880s. A painted stave was a code phrase for selling alcohol.
In the distillery, a painted stave has taken on an artistic reference. After a wood barrel has served its purpose, the staves are given to local artists. These artists have painted oak barrel staves and have created sculptures. These adorn the walls of the gallery. The staves are auctioned off with proceeds going to the Delaware AeroSpace Education Foundation to support STEM (Science, Technology, Engineering, and Mathematics) education for girls in Delaware.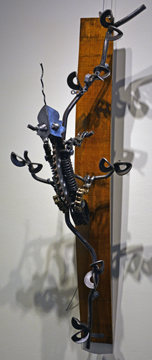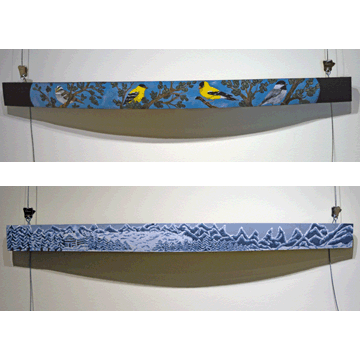 Ron's and Mike's Distilling Journey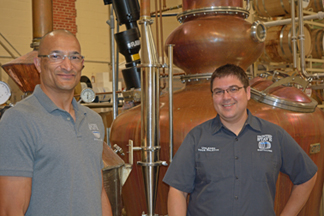 During his college days, Ron studied medicine. He had a hobby tinkering with alcoholic beverages. It only took an introduction to craft distilling to peak Ron's interest. He started to visit craft distilleries. With his wife's permission, he was able to delve into the distilling business. Mike was making beer, wine and mead while in high school and college. During his years working in educational policy, he had opportunities to travel. He would visit breweries and wineries. On one trip he visited a craft distillery, and knew that his future path was clear.
Ron and Mike (pictured left) realized that legislation would have to be passed in order to open a craft distillery, offering tours, tastings and sales. They joined Dogfish Head Brewery who also wanted to change distillery laws in Delaware. Together they crafted legislation and with the help of many friends moved it through the Delaware General Assembly in 2012. With favorable legislation in place, the search for a site became paramount.
Old Smyrna Theater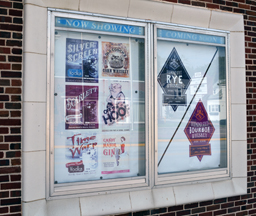 In 1947 a movie house opened in downtown Smyrna. It became a local icon for residents until attendance began to fall off during the 1970s. The last film was shown in the theater in 1975. Since that time, different businesses were housed in the space. However, since 2005 the building was empty. Rather than tear down and rebuild, there was a desire to preserve America's past. In 2012, Painted Stave Distilling leased the first floor of the building. Renovations began in 2013. Several former theater artifacts remain.
Outside the building there is a built-in movie poster case with one side titled "Now Showing" and the other side titled "Coming Soon." Rather than movie posters in the case, Painted Stave Distilling has posters of some of its current and future products. In the tasting room, a film projector, like the ones used at the time of the Smyrna Theater is on display. The distilling production area has the original theater wall sconces, and along the ceiling, the original painted decor is still present.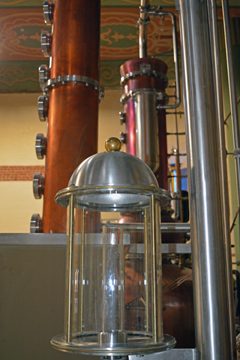 Production Area
The large production area has a column still and a homemade still. Copper and stainless steel blend well together in this large area. On one side of the room, barrels age spirits. Many of the barrels have advertisements on the head of the barrel creating a colorful array. The other side of the room has stainless steel tanks.
Spirits
The tasting room is inviting with a brick background and shelves of spirits. The long wooden tasting counter has a shiny surface. We tasted three of the spirits. The 2014 Harvest Grappa was 40% alcohol. The clear colored grappa had layers of fruits on the aroma and taste. There was a very long fruity aftertaste that offered a bit of sweetness.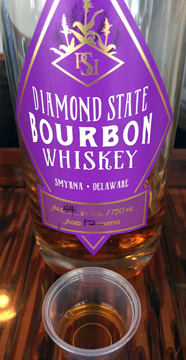 The Diamond State Bourbon Whisky was a burnt orange color. The 44% alcohol bourbon had a taste of corn, rye and spices. The long aftertaste became sweeter. The Candy Manor Gin, with 40% alcohol was a clear color. The gin reminded me of an evergreen forest after a spring rain. It was very smooth and offered aromas of juniper, pine and spruce. The gin had a long evergreen aftertaste.
Events
In addition to spirits tastings and tours, Painted Stave Distilling rents space. Both the tasting room and the gallery are rented for receptions. The gallery can also accommodate 60 people seated for a dinner reception.
Ron and Mike are both passionate about their distillery and the products they craft. They are friendly and provide a wonderful experience for visitors.
Painted Stave Distilling
106 W. Commerce Street
Smyrna, Delaware 19977
GPS: N39º 17.979' W75º 36.499'
Article written August 2016
---
Visit these distilleries that advertise with Distilling - Wine Trail Traveler.