Spirits of French Lick
by
Terry Sullivan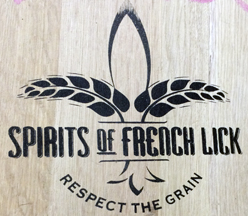 Summary: Spirits enthusiasts will want to visit Spirits of French Lick distillery in West Baden Springs. The very energetic distiller, Alan Bishop will tailor a tour to your interest. There are a number of spirits to taste including Aquavit, Absinthe, Eau-de-vie, Vodka, Brandy, Whiskey and others.
Some farm wineries like to expand their products. One avenue to diversification is creating a distillery. French Lick Winery took advantage of state law change that enabled a winery to start a distillery. Alan Bishop is their energetic and passionate distiller. We met Alan who took us on a tour of the distillery.
Alan specialized in organic plant breeding. Distilling was never far from his mind. His family had been distilling for generations. Alan likes the Indiana Uplands area. The limestone shelf has wells that are a source of great water, a necessity for distilling. Prior to Prohibition, there were several distilleries in the area. Now a blip on the history timeline, Alan hopes to change the prohibition end of distilleries as he ventures into the future with an array of distilled products.
Alan believes that distillers need to "respect the grain." His eclectic approach to distilling encompasses many best practices from the distilling process. Alan said, "Distilling is about 60% science, 30% dark arts and 10% intuition. If you do not have intuition, you should not be distilling."
Three large tanks are outside of the distilling area. One contains rye while the other two are used for corn. The corn is sourced from Indiana, Alan is also growing corn. The grains are all milled onsite using a hammer mill. The flour-like consistency is placed in a cooker along with water and enzymes and cooked. From there, the mixture is placed in fermentation tanks where it undergoes fermentation. A stainless steel base with copper top distiller is used for the stripping run (middle photo below), the first distilling that a distiller can use to separate the foreshots, heads, hearts and tails. Additional distillations are done in an adjacent room where there are pot and column stills (right photo below).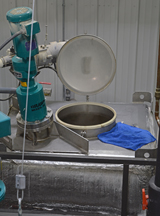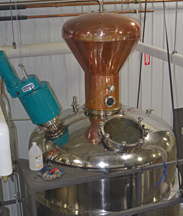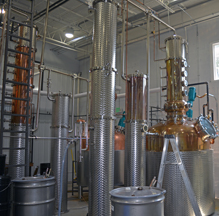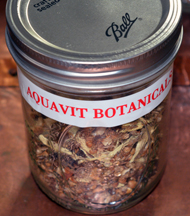 While on a loft overlooking the cooker, fermentation tanks and the still for the stripping run, Alan showed us ball mason jars filled with the items he wants to separate from the grains that he wants to keep. One jar caught our attention. It was filled with the botanicals used to make Aquavit, a centuries-old Nordic spirit. We smelled the botanicals and noted layers of different spices.
The tour with Alan concluded in the barrel room where American oak #2 char barrels, with toasted heads, age spirits. Since the distillery operation was new at the time of our visit, we tasted spirits that were not aged in oak for years.
Spirits
White Bourbon Whiskey was not aged in barrels. The result was a clear colored whiskey. The whiskey measured 98 proof (49% alcohol). It offered corn and sweetness on the aroma and taste. The very smooth mouthfeel had some heat, sweetness and corn. The very long aftertaste had layers of flowers and corn.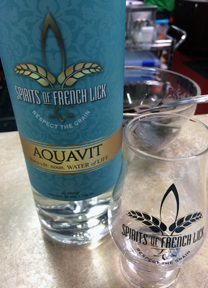 The Blackberry Eau-De-Vie was a clear color at 90 proof (45% alcohol). The aroma was predominately blackberry. The taste was blackberry and corn. The mouthfeel was very smooth with sweetness and heat. Blackberries dominated the long aftertaste.
The Son Roho Immature Brandy was a clear brandy made from Catawba grape wine. It was referred to as immature since it did not have any barrel aging. The spirit was 90 proof (45% alcohol). The aroma was floral. The taste offered roses. There was some heat and a long aftertaste.
Aquavit means "water of life." This distilled product was 92 proof (46% alcohol). The spirit was produced with a blend of botanicals. The product was clear and offered an aroma of grass and herbs. The taste was herbal with caraway, coriander, juniper and dill notes. The spirit was dry and had an herbal aftertaste. The back label notes, "A long standing Scandinavian tradition turned it into an American art-form. Starting with a blend of 10 unique botanicals, we marry them together in our copper pot still to bring out the crispness of a fine wine with the savory flavor of a world class Aperitif." At the distillery/winery tasting counter, it was suggested to use Aquavit for making a Tom Collins or mixing it with citrus juices. On a personal note, we would like to try mixing the Aquavit with tomato juice. Somehow the herbs and tomato juice sound like a very savory drink.
Spirits of French Lick has a wonderful tour and spirits tasting. Spirit enthusiasts should make an appointment for a tour.
Spirits of French Lick
8145 West Sinclair Street
West Baden Springs, Indiana 47469
Related article about French Lick Winery
Article written August 2017.
---
Visit these distilleries that advertise with Distilling - Wine Trail Traveler.