Corsair Artisan Distillery
by
Terry Sullivan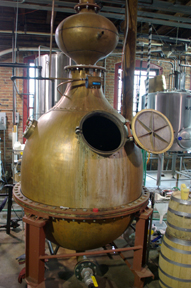 Summary: Are there alternatives in the world of spirits if one doesn't want to drink what their parents and grandparents drank? Just as in other alcoholic beverage industries, the prefix micro and the word boutique are becoming more commonplace. Corsair Artisan Distillery in Nashville, Tennessee is an example of a micro-distillery.
The term corsair is a more romantic form of words than pirate and privateer. In France, corsairs were considered legal naval fighters. Corsair is an appropriate term for a distillery that is creating a legal product and has a pirate attitude of not staying with the norm.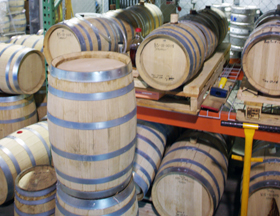 Corsair Artisan Distillery in Nashville, Tennessee can best be thought of as a micro-distillery. Visitors won't see thousands of 53-gallon whiskey barrels stacked ten high as far as the eye can see. Instead there are fifteen and five gallon barrels aging experimental lots of different distilled spirits.
Developed in a section of the old Marathon Motor Car Company on Clinton Street, the distillery breathes new life into a classic building. The distillery moved into a space that was vacated by the Yazoo Brewing Company that relocated in order to expand. Corsair acquired some of the stainless brewing tanks from Yazoo. In addition to the brewing tanks, Corsair has two stills. One is a pot still that was used prior to Prohibition. This gin still is used for the first pass in whiskey production.
When Corsair Artisan Distillery moved into the building, they decided to keep the Yazoo Brewing Company's taproom. Now Corsair pours draft craft beers including Yazoo's on Thursdays through Saturdays. In another area, Corsair Artisan Distillery designed and built their tasting room.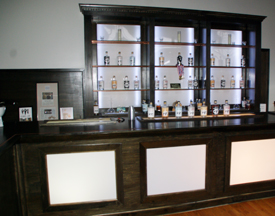 Distillery Tasting Room
The Corsair Artisan Distillery tasting room is expected to open to the public during the summer of 2011. The dark wood contrasts with the white walls and back lighted panels. The backlit panels enhance the Corsair offerings. Products include absinthe, gin, rum, vodka and whiskey.
Spirits
Vanilla Bean Vodka is 40% alcohol (80 proof) and infused with whole vanilla beans. The yellow colored vodka offered vanilla on the aroma and taste. The finish had some heat and a vanilla aftertaste. Mix the vodka with Coke for a vanilla coke drink. Spiced rum with its 42.5% alcohol (85 proof) was a gold color. The rum was made with spices and citrus peel. The aroma and taste had vanilla with nuances of spice and lemon. The rum was very smooth with a bit of heat on the finish.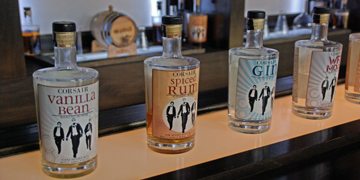 Gin with its 44% alcohol (88 proof) was a clear color. The gin won gold at the San Francisco World Spirits Competition in 2009. There were juniper and cucumber notes on the aroma and taste. There was no burning on the finish. Also a clear color, the Wry Moon was 46% alcohol (92 proof). This unaged white whiskey is similar to moonshine. Made from rye the smooth whiskey had whiskey burn on the finish. Pumpkin Spice Moonshine was also clear and had 42.5% alcohol (85 proof). The aroma offered spice with a hint of pumpkin. The smooth taste was accompanied by whiskey burn and spices that yielded to pumpkin.
The Triple Smoke with its 40% alcohol (80 proof) was a burnt orange color. This was a pot distilled American malt whiskey. There was smoke on the aroma and the taste was smooth with smoke changing to cherry. There was just a bit of whiskey burn on the finish. Red absinthe with its 56% alcohol (112 proof) was pot distilled with herbs and spice and infused with red hibiscus flowers. The color had turned from a red at bottling time to a yellow color. When water was added, it turned to a cloudy, light gray color. Anise was on the aroma and taste and the absinthe was smooth and had a long licorice aftertaste.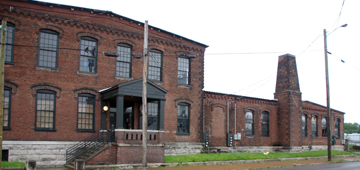 Visit Corsair Artisan Distillery to sample some small batches of experimental spirits. The tasting room experience at this micro-distillery allows visitors the experience of tasting different outstanding spirits. Wine enthusiasts will appreciate the layers of aromas, tastes and aftertastes.
Corsair Artisan Distillery
1200 Clinton St. #110
Nashville, TN 37203
GPS: N36º 09.904' W86º 47.686'
---
Visit these distilleries that advertise with Distilling - Wine Trail Traveler.