The Parched Group - Cirrus Vodka
by
Terry Sullivan

Summary: Cirrus Vodka is a modern distillery set in the city of Richmond, Virginia. According to owner Paul McCann, vodka should only be made out of potatoes.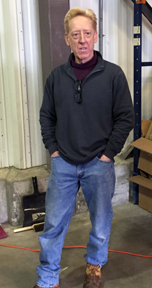 After the morning session on distilling at the 2015 Craft Beverages Unlimited, we were bused to The Parched Group - Cirrus Vodka distillery. Paul McCann met our group and talked about making vodka. Paul only uses potatoes in vodka production saying, "We make vodka the way it is supposed to be made, that is from potatoes." During the harvest season, he sources potatoes from Virginia and the surrounding states. When potatoes are not available, Paul purchases potatoes flakes to turn into vodka. As far as potato varieties go, Paul likes russet potatoes because they have more starch in them. In his experience, there is not a difference in the finished vodka made from different varieties of potatoes. The difference is in the production, with starchier potatoes yielding more alcohol.
Paul began this distillery a year ago. The facility has high ceilings making it perfect for distillation columns. The distilling columns were manufactured in the United Kingdom.
On the day of our March visit, Paul was fermenting potato flakes. The potato flakes were sourced from Pennsylvania. About 2,000 to 2,200 pounds of potato flakes are placed into a processor. The potato flakes are hydrated and then heated for a few days. The mixture is then pumped into a fermenter. Yeast is added to the fermenter and the potato mixture is fermented for about ten days. After fermentation, the mixture has the consistency of potato soup. There is one processor and five fermentation tanks in the fermentation room. With whole potatoes, Paul uses a hammermill to shred the potatoes before placing them in the processor. Paul mentioned that in the best case, he can ferment the potatoes to about 8% alcohol.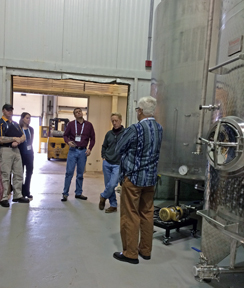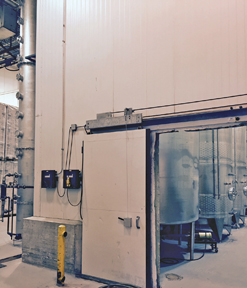 The next room is a large room with five columns. The five-column still can distill 5,000 gallons of mash each day. The capacity of the distillery is 100,000 cases. After distillation, the high alcohol vodka is filtered and cut with filtered water to 80 proof (40% alcohol). The vodka is then bottled. The bottles are already labeled.
We were not able to taste the Cirrus vodka during our visit because the first batch of vodka was in the process of fermenting.

The Parched Group - Cirrus Vodka
1603 Ownby Lane
Richmond, Virginia 23220
Article written March 2015
---
Visit these distilleries that advertise with Distilling - Wine Trail Traveler.