Jim Beam
by
Meghan A. Sullivan
Photos by Andy Neumeier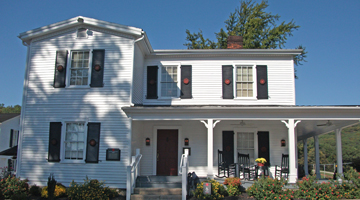 Summary: The Jim Beam family is known as "America's first family of Bourbon," and Jim Beam bourbon is the world's top-selling bourbon. A tour of Jim Beam's Clermont facility includes a visit to the Beam family historic home, as well as an 18th century still house and a warehouse. The tour concludes with a tasting in the tasting room. A new visitor center and café are on track to open in 2012.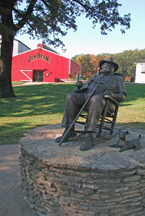 History
The Beam family is known as "America's first family of Bourbon." Jacob Beam began the bourbon business and sold his first bottle of the liquor in 1795. Jacob's great grandson, Jim Beam, rebuilt the family distillery after Prohibition. His distillery, built in 1934, is still used today. Known for his hard work and honesty, Jim Beam guaranteed that his name would be part of the bourbon legacy. Today, Fred Noe, a member of the seventh generation of Beams, is the master distiller and Bourbon ambassador. Jim Beam bourbon is the number one selling bourbon in the world.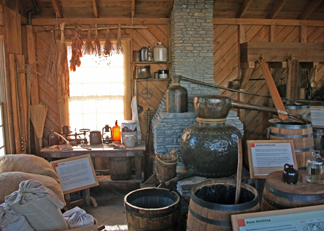 Tour
The tour began at the Master Distiller's House. Four Beams lived in the home, which is on the National Register of Historic Homes. Inside the house, we watched a film and viewed a small museum to learn more about the Jim Beam business. The museum contained photos, artifacts, and the world's smallest working still. From the Master's Distiller's House, we walked to an 18th century replica of a still house. We then strolled to a warehouse, which we also toured.
During the tour, we learned that Jim Beam has three distilleries in Kentucky; the distillery in Clermont is the largest. Together, the three distilleries have 72 warehouses. Jim Beam's bourbon is mingled in its barrels, which means that cross sectioning is done for every dump. This produces a more complex and consistent flavor. The tour ended in a red barn-like building, where the tasting bar and gift shop are located. The gift ship sells chocolate, marinades, spices, sauces, clothing, glasses, souvenirs, and candles. A new visitor center and café are scheduled to open in 2012.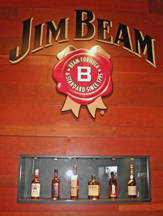 Tasting
Jim Beam produces several types of Bourbon, including Jim Beam White, Jim Beam Black, Basil Hayden's, Knob Creek, Baker's, and Booker's. We began our tasting with the Booker's. This bourbon is 129 proof and is aged for seven years. It is the color of honey and smells like vanilla and caramel. The initial taste includes flavors of vanilla and caramel; there is a spiciness to the finish. The second bourbon we tasted was Red Stag, which is infused with black cherries. It is the color of straw, its nose is of sweet cherries, and its flavor is sweet and smooth. It has a cherry taste on the finish. After sampling the two bourbons, we tried a bourbon chocolate.
The Jim Beam Distillery tour is educational and entertaining and is sure to pique visitors' interest in bourbon.
Jim Beam
526 Happy Hollow Road

Clermont, Kentucky 40110
---
Visit these distilleries that advertise with Distilling - Wine Trail Traveler.