Wild Turkey Distillery
by
Terry Sullivan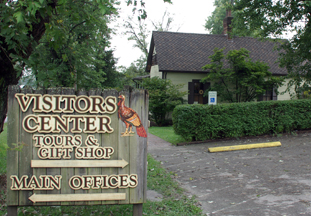 Summary: Wild Turkey Distillery is an easy distillery to locate. Follow signs for visitor parking. There is a short stroll to the visitor center. Tours are scheduled throughout the day. The tour will take you through parts of the distillery and explain the process for making bourbon.
The visitor center had several people in it that had just finished a tour. They were purchasing a bottle of bourbon and Master distiller, James C. Russell was autographing bottles. Jimmy is friendly, well liked and renowned in the bourbon industry. He has worked at Wild Turkey for 55 years and his son, Eddie Russell, has worked at the distillery for decades. Eddie now does much of the distilling. The Russell family has been in the bourbon business for many decades. Jimmy's father and grandfather worked in the industry.
Jimmy now travels worldwide as a goodwill ambassador for Kentucky's bourbon industry. He will take moments to give tours and on the day of our visit he showed us the distillery operations. During the tour, Jimmy recounted the differences between distilling in the 1950's and today. The process remains the same; the equipment is different. For example, at one time the distiller had to operate the still by hand. He had to read gauges and control the pressure and temperature in the still. Modern equipment has controls to automatically control pressure and temperature.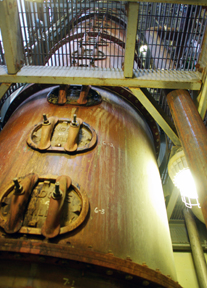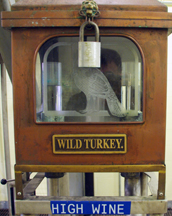 Jimmy showed us where trucks would bring the corn and other grains. We then strolled to the fermenters. Jimmy pointed out how many days each mixture in the fermenters has been fermenting. He could tell by looking at the layer on the top. He pointed out that the bourbon industry has their own vocabulary. They use the word beer after the mash ferments. Low wine and high wine are used at different times during the distilling process. We observed the 48-foot tall still and the wines. Low wine had a cloudy liquid while the high wine liquid was clear.
Jimmy led us to one of the many warehouses on the property. Barrels age the bourbon for several years. At this time bottling is done off-site. The bourbon is trucked to a bottling plant in Arkansas.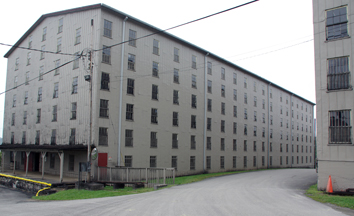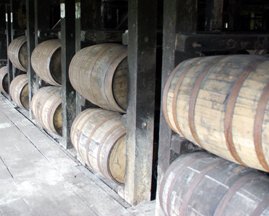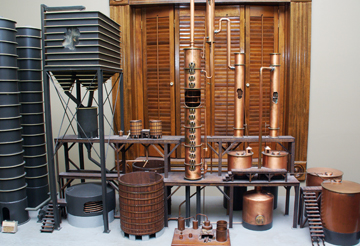 Our tour ended at the visitor center. A back room had a model of the distilling process. The model shows the inside of the still as well as the many other tanks and barrels. Like for many other visitors, Jimmy autographed a bottle of Russell Reserve for us.
Later that evening we had an opportunity to taste Wild Turkey American Honey. It offered a floral aroma and a velvety floral taste. It had a sweet floral finish.
Enjoy a visit and tour at Wild Turkey Distillery.
Wild Turkey Distillery
1525 Tyrone Rd.
Lawrenceburg, KY 40342
GPS: N38º 02.301' W84º 51.075'
---
Visit these distilleries that advertise with Distilling - Wine Trail Traveler.